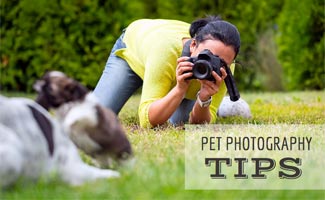 For original article click here
To sustain this free service, we receive affiliate commissions via some of our links. This doesn't affect rankings. Our review process.
We all want keepsakes of important moments, people or animals in our lives. That's why learning to take better pictures of your pet is a great idea! Tired of those annoying flashbacks where your furry friend's eyes look like something you'd see on Halloween? We know how you feel because we have lots of red eye pet pics too!
Check out these 6 pet photography tips to help you get the photos you want to show off to others and keep in your photo books for future viewing.
1. Get On Their Level
We all know what our pets look like from our level. Explore what it's like to be on their level. Crawl around on the ground with your dogs. Lay next to them. Get photos of them from their perspective.
2. Use Natural Light
Unless you want to make your pet look like something from Pet Sematary. We've all taken those pictures with our pet where their eyes are red and scary. Use natural light to avoid this. Also, bursts of light from camera flash can frighten an animal and you want to keep them as comfortable as possible.
3. Show Their Character
Coming up with dog photo shoot ideas can be tricky. Focusing on showcasing their true character is a great way to capture your pet's true nature on "film". If you have a lazy dog, take a picture of him yawning. If you've got a cat with a really cool trick, photograph her doing that trick.
4. Close Ups
Show the details of your pet. Eyes are always a great feature to capture as well as paws, ears and hair. I used to know a dog with a heart-shaped nose that would've been a great capture! Really, anything can make a cool picture if you take the time to really look at the pet and find its unique and photogenic features.
5. Timing Matters
If you want your pet to be playful in the photo don't photograph them after a nap. "Schedule" a time where you know you'll get the photos you want. If your cat has his routine run through the house where he goes berserk around 7pm each evening and you'd like to capture it, be sure you have your camera near as the clock strikes!
6. Use Props
Need some cat or dog photography ideas? Use a string to intrigue your cat or a squeaky toy to capture your dog's attention. Treats tend to entice better behavior too. Don't be too mean though. Be sure to let them have the toy or treat eventually!
The Pooch Selfie (as seen on Shark Tank) is a great way to get Fido to pay attention to your smartphone camera and it may even make him smile big! You could even use this tool to take a selfie with your favorite furry friend!
You may also consider posing your dog cuddled up with a favorite stuffed cat toy or in a Santa hat for Christmas card shots. The possibilities are endless!
Worst Pet Photos
Maybe this video will convince you to step up your pet photography game. (We certainly hope that our pet photography tips help you get better photos than these! )
If you laughed way too hard watching this video you can also check out these 31 Absurd Pictures of Men with Their Pets.
What Should I Do With My Pet's Photos?
There are tons of options! Frame them, print them on canvas to hang on your wall (we recommend CanvasPop), add them to a digital photo frame and more! You love that cuddle monster and want to show him off to friends, family and coworkers. A great photo you took of your sister's dog could also make a great personalized gift! So be sure to share your adorable photos with others.
What is your best tip for taking good photos of your pet?
Comments:
Related Topics: