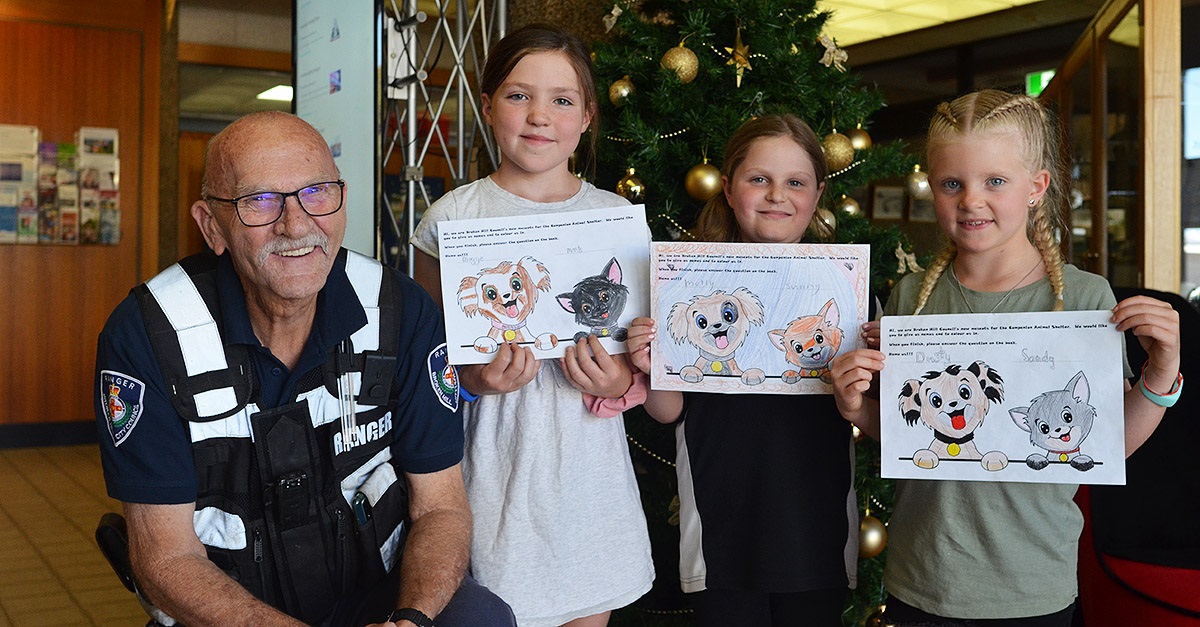 For original article click here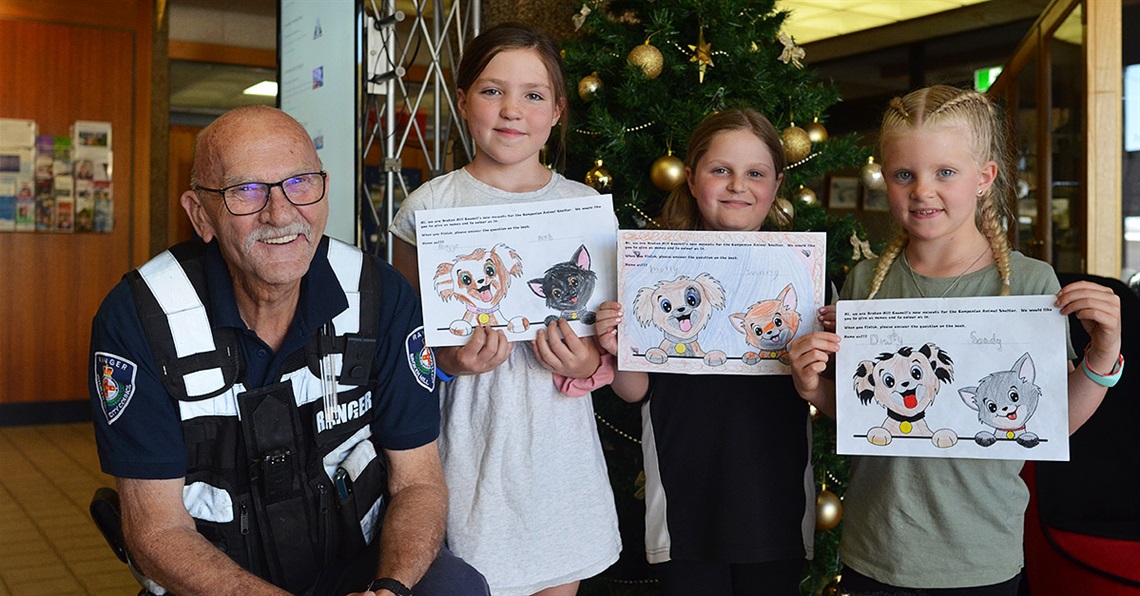 With Council's new Companion Animal Shelter set to open in the new year, some of the city's Year 2 students have put pencil to paper to describe what makes a good pet owner.
Council recently distributed an activity sheet asking Year 2 students to colour in dog and cat mascots for the shelter, give them names, and answer the question "What does it mean to be a good pet owner?"
Council's Manager Planning, Development and Compliance, Francois Van Der Berg, said the activity was a fun way to get kids thinking about responsible pet ownership.
"There were some great colour schemes and creative names submitted, but I think the most encouraging thing was the nature of the responses to the question," he said.
"There were recurring themes around keeping pets clean, safe, secure, well fed, hydrated, and just generally being a responsible and caring owner.
"If we can get kids really focusing on the importance of caring for animals and ensuring they are safe and secure, we'll hopefully see fewer animals wandering the streets in years to come."
Mr Van Der Berg said Council would look to hold further education campaigns with other age groups in future to try and reduce the number of stray dogs in the city.
"Locals love their dogs, we have at least 12,000 in Broken Hill right now," he said.
"With that many animals in the city the only way to keep dogs off the street is for owners to be caring and responsible.
"If we can impart that message on kids then we are going to have future generations of responsible dog owners who will ensure their pets are safe and secure."
Three schools took part in the initiative, with Rangers giving awards to Morgan Street's Claudia Shoobridge (Best Colouring In) and Zahra Cawley (Best Names – Maggie & Monty), and Broken Hill Public's Sharnelle Fazulla (Best Answer).
Each student won a $300 prize for their school to spend on equipment.
For more information on pets and pet ownership please visit https://www.brokenhill.nsw.gov.au/Services/Pets-and-animals
The trio's tips for good pet ownership can be found below:
Sharnelle Fazulla, Class 2R, Broken Hill Public School
To be a good pet owner you have to feed it, and don't leave it without food. Also water – people always leave their pets outside in the hot and cold which I just don't like.
I like playing fetch with my dog, it gets her more energy, also it keeps her healthy.
I like the most helping my Mum bath my dog, it's very fun and I like helping my Mum.
The part I don't like the most is cleaning up their mess, but I have to because I'm responsible.
I also give her a bed and say goodnight to her.
Claudia Shoobridge, Class 2K, Morgan Street Public School
If you want to know some good ways to look after pets then take a look at my ideas!
Make sure you play with them and show them love! You need to take your dogs to the vet to have a needle once or twice a year.
You need to keep them clean and make sure they have a safe place to sleep.
Take them for a walk every weekend, oh and don't lose them.
When you get a collar don't forget to put their name and your phone number on the tag.
DON'T be mean to them! Make sure someone in your family feeds them and gives them water, but not too many treats.
So take my ideas and be a great pet owner!!!
Thanks for reading my writing.
Zahra Cawley, Class 2S, Morgan Street Public School
To be an awesome pet owner I check that my hairy cute dogs should have a nice clean bath and should have a good brush.
I also give my pet delicious good food. My pets love to play with me so I play with them a lot.
Also my pets are always hungry even if we give them heaps of food.
I also train my dogs because they are sometimes good and naughty.
I love my pets they are so awesome!
*Picture:  Council Ranger Geoff Creed with Claudia Shoobridge, Sharnelle Fazulla, and Zahra Cawley.